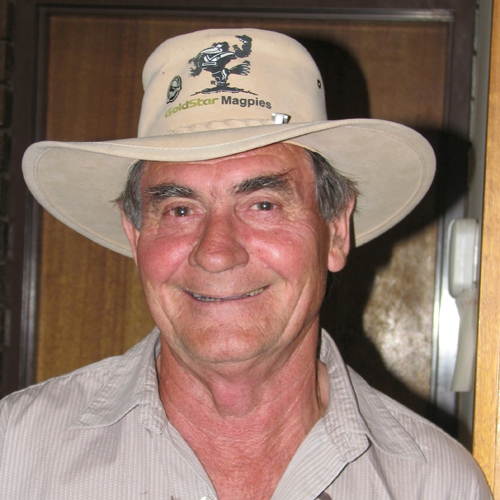 Brian "Chooka" Williams
Chooka has a natural vibrato quality voice of strong country and has become very in demand around the Adelaide Country Music Circuit and beyond. A regular at the 'Alcheringa Shindig' Mildura & Barmera Country Music Festivals. Chooka has become a regular face. His willingness to always lend a hand at fundraisers right across the State has seen him become a favoutite and respected performer, not only with audiences but also with his many associates in the Country Music Arena.
Chooka is a retired train driver, born in Ouyen on the 10th August 1946, the 4th of five children in a musical family (his mother played piano), young Brian started to learn guitar, voice and presentation at an early age with Mary Cummins (song writer and singer and established country performer).
His first performance in 1964 was for the Ouyen District Hospital Fund Raising Concert, playing rhythm guitar and was leas singer with Owltones. During the 70's and 80's he continued with "Martin,Barton & Fargo"a band from the 80's
Happy to remain as a background musician in these bands,Chooka was eventually forced to the frontline when his pleasant voice became the favourite of many audiences.
His list of CD's range from his first-'Sunset Country', recorded with
Star Productions in 1997. Then followed in 1999,-'Mallee Country'.Still Steady' His current CD is full of the true country, which has been receiving very good airplay.
Chooka has many credits to his name over his career including participating in the Olympic Torch song contest with local children (who wrote the lyrcs) and Chooka co-wrote the music of the winning song Lighting of the Olimpic Cauldron and performed with the children in Mildura while the cauldron was lit.
Chooka is easy going with a quiet sense of humour, he appears at numerous gigs for charity, he's easy to work with.